Health Benefits of Colonic Irrigation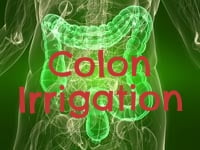 Colonic irrigation, also known as "colon hydrotherapy," is the use of clean, temperature- and pressure-regulated water to flush out the lower intestines. This gentle flushing can aid in the elimination of toxin-containing waste in the colon, and relieve constipation by reestablishing regular bowel movements.
While the use of enemas is ancient, this particular therapy dates back to the early 1900s and has a long history of clinical evidence from physicians who routinely saw the difference it made in their patients' symptoms. It is also surrounded in controversy, as many alternative healers make wild and fantastical claims of its benefits.
Colon hydrotherapy is so gentle and effective that it is frequently used as an alternative to oral laxatives before a colonoscopy. In addition, this therapy is used to treat people who suffer from fecal incontinence, children with chronic constipation, and those diagnosed with multiple sclerosis. Finally, it is used to relieve the multitude of physical and emotional symptoms that frequently accompany chronic constipation, poor elimination, and various bowel diseases such as IBS.
As with any health procedure, it is important to work with a trained and certified colon hydrotherapist. When this procedure is done by a trained professional with proper equipment, the rate of adverse reactions is extremely low. This is a helpful and scientifically supported therapy used by all different types of physicians around the world.
Resource for finding a certified therapist:
http://www.i-act.org/IACTSearch.HTM
Resources
Christensen, P., and K. Krogh. "Transanal Irrigation for Disordered Defecation: A Systematic Review." Abstract. Scandinavian Journal of Gastroenterology 45, no. 5 (May 2010). doi: 10.3109/00365520903583855.
Mooventhan, A., and N.L. Nivethitha. "Scientific Evidence-based Effects of Hydrotherapy on Various Systems of the Body." Abstract. North American Journal of Medical Sciences 6, no. 5 (May 2014):199-209. doi: 10.4103/1947-2714.132935.
Pizzorno, J., and M. Murray, eds. Textbook of Natural Medicine. Seattle: John Bastyr College of Naturopathic Medicine: 1985.
Preziosi, G., et al. "Transanal Irrigation for Bowel Symptoms in Patients with Multiple Sclerosis." Abstract. Diseases of the Colon and Rectum 55, no. 10 (October 2012).
Richards, D.G., D.L. McMillin, E.A. Mein, and C.D. Nelson. "Colonic Irrigations: A Review of the Historical Controversy and the Potential for Adverse Effects." Journal of Alternative and Complementary Medicine 12, no. 4 (May 2006): 389-93.